Mini calendar
Easy accessible calendar for macOS
On Desktop
From Dock
From Menu bar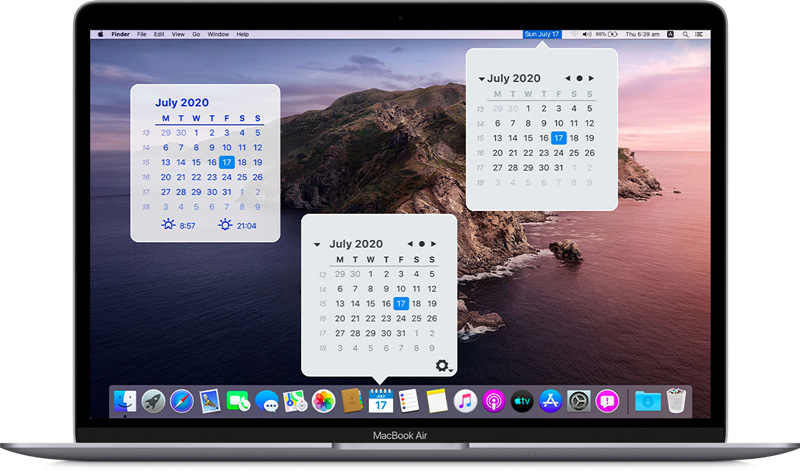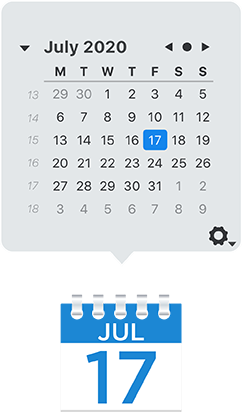 Simple & lightweight
Choose the most convenient way to open the calendar:
click on the menu bar icon
click on the Dock icon
via the configurable keyboard shortcut
as the notification center widget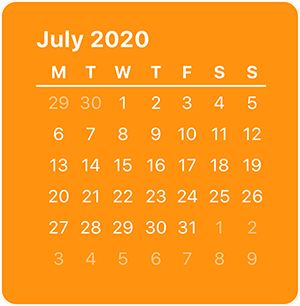 Enable always-on-desktop calendar
with customized color, transparency
staying atop of all other windows
… or just atop of the desktop wallpaper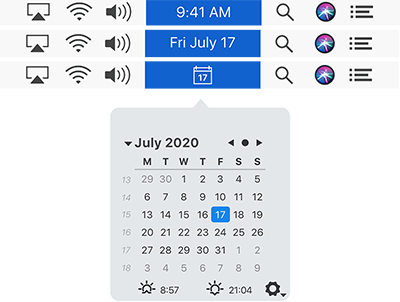 Additional features:
Configurable menu bar item displays date, time, the day of the week or just an icon with the date
If the Dock icon is enabled, it always displays current date and month
Configurable global shortcut displays the popup calendar
Configurable color of the desktop calendar
Display sunrise and sundown times
Hint: on macOS Sierra and up you can reorder items in menubar by dragging them with pressed Command key.
An indispensable tool; this should be app of the year!

Stop reading this and just download it! Like me and many other reviewers, you've probably asked yourself why Mac OS didn't already come prepackaged with a tool as simple as a popup mini calendar. There are many times where I don't need to look at MY calendar, I just want to see an unadulterated miniature calendar...

GREAT Replacement for my old and aging MenuCalendarClock

Thanks so much for a VERY nice super simple Menu Calendar. I also love the few features that make it really practical, too (like the ability to jump forwards or backwards years or months at a time with having to hit Forward and Backward buttons like an Atari Game Console Fire button)! ;-)

Love this!
Exactly what I wanted.

I use it in the menu bar instead of the usual day/time so that it displays the date, day, and time, and I also have it set as a widget in the notification center so I can see 2 months at a glance easily. Love it!...
Support
Have questions about Mini Calendar usage?
Have a new feature suggestion or issue report? Feel free to contact us.
Also you may find useful our Frequently Asked Questions page.